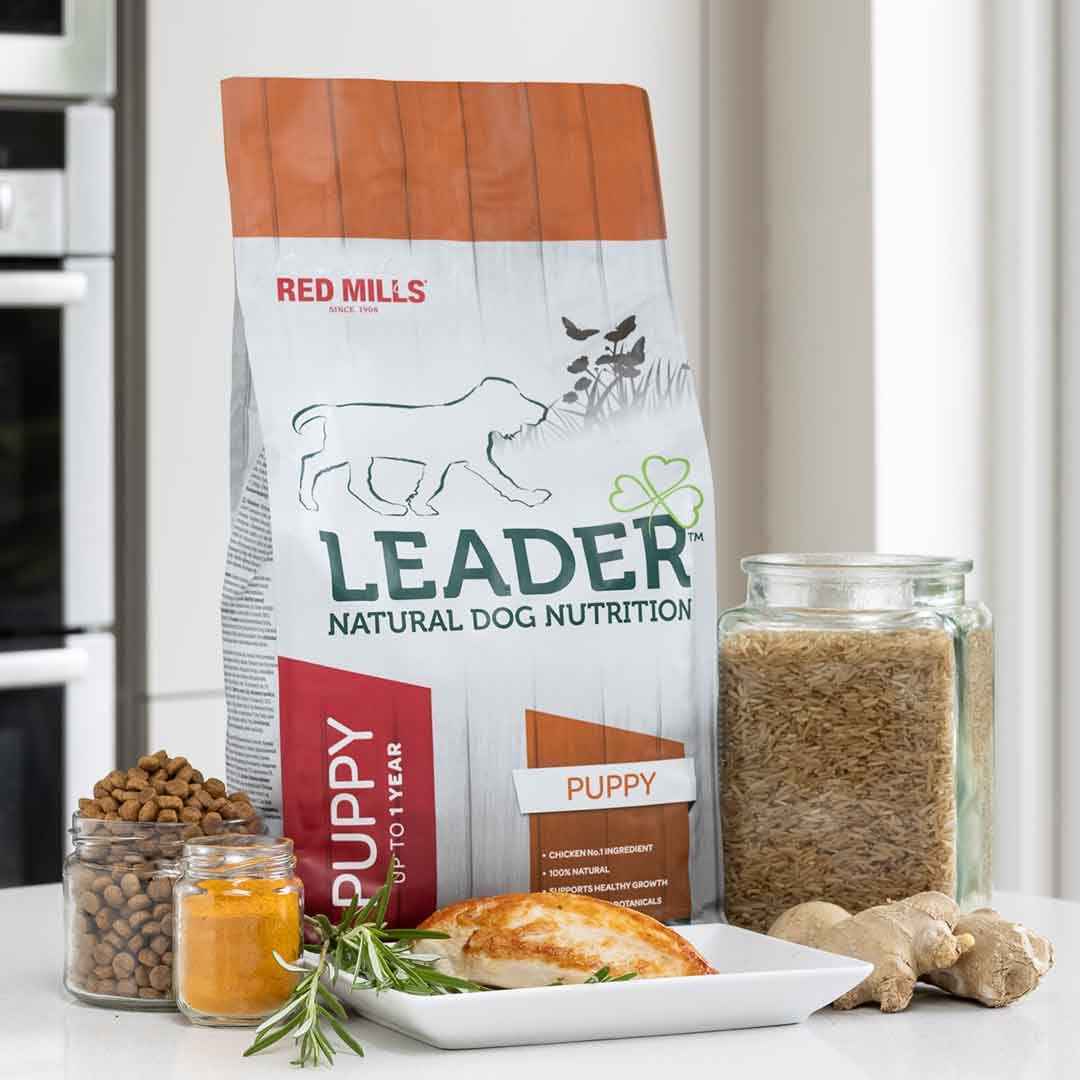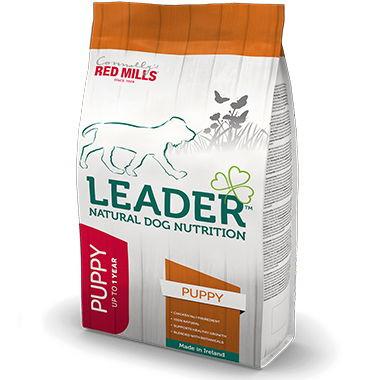 Leader Puppy Medium Breed Dog Food
Get your puppy off to a great start. Leader Puppy food is packed with essential vitamins and minerals for healthy growth including calcium and phosphorus. With highly digestible chicken protein and an excellent amino acid profile, Leader Puppy will help your puppy thrive.

Chicken number one ingredient
100% natural
Supports healthy growth
Blended with botanicals 
The Leader Puppy chicken and rice formulation is perfectly balanced and provides all the nutritional requirements for the growing puppy. Puppies require optimum levels of vitamins and minerals, including calcium and phosphorus, to support proper development.
This formula includes highly digestible proteins with an excellent amino acid profile to assist healthy growth and is enriched with omega-3 oils, which help to promote a radiant and shiny coat.
Ideal for Medium Breed Puppy
Subscribe & Save: Choosing a 12kg Pack you can save up to 15% by registering to our Subscribe & Save and never run out of dog food again!
Analysis
Composition
Dehydrated Chicken (36%), Brown Rice, White Rice, Chicken Fat, Dehulled Oats, Whole Linseed, Minerals, Alfalfa, Hydrolysed Liver Protein, Yeast Extract, Chicory Inulin, Dried Cranberries, Dried Beetroot, Rosemary, Ginger, Turmeric, Glucosamine Hydrochloride, Yucca schidigera, Chondroitin Sulphate.
Analytical Constituents
| | |
| --- | --- |
| Protein | 28.0% |
| Fat Content | 15.0% |
| Crude Fibres | 2.0% |
| Ash | 6.5% |
| Moisture (max) | 10.0% |
Nutritional Additives per kg
| | |
| --- | --- |
| Vitamin A | 24,000 iu |
| Vitamin D3 | 2,000 iu |
| Vitamin E (Alpha Tocopherol) | 250 iu |
| | |
| --- | --- |
| Copper Sulphate Pentahydrate | 28.0 mg |
| Sodium Selenite | 0.3 mg |
| Iron Sulphate Monohydrate | 250.0 mg |
| Manganese Oxide | 65.0 mg |
| Zinc Oxide | 97.2 mg |
| Zinc Chelate of Amino Acid Hydrate | 200.0 mg |
| Calcium Iodate Anhydrous | 2.4 mg |
Antioxidants, Preservatives: Preserved with tocopherol-rich extracts of natural origin
Feeding Guide
Your dog is unique and his feeding requirements will vary with his age, activity and environment. That's why we suggest starting with the guides below, and then monitoring his weight and adjusting portions as needed.
All recommended feeding amounts are in grams per day.
Ideally feed your adult dog in two feeds per day rather than just one, especially for large breeds. However, be vigilant with the amount of food you give them.
Feed puppies from 6 weeks onwards, 3 times per day until the age of 6 months, then reduce to twice per day.
We recommend you try to feed your dog at the same time each day.
Please ensure a supply of fresh drinking water at all times
Body weight

1-3 Mths
4-8 Mths
 

9-12 Mths

1kg
65g
50g
45g
2kg
100g
85g
70g
3kg
135g
105g
90g
4kg
160g
125g
100g
5kg
195g
165g
135g
6kg
220g
185g
150g
7kg
245g
205g
170g
8kg
265g
225g
195g
9kg
290g
245g
210g
10kg
310g
265g
230g
Amounts recommended above are total daily amounts: 
We recommend puppies 1-6 months are given a minimum of three feeds per day. Provide one third in morning, one third at lunch, one third in evening. We recommend puppies 6-12 months are given a minimum of two feeds per day. Provide half in morning, and half in evening.
Pour the correct amount of Leader into your dog's bowl. Leader may be fed either wet or dry. If feeding wet, use 1 part water to 2 parts feed. Use lukewarm (not boiling) water. Feed should be fed within 30 minutes of preparation if fed wet.
Amounts provided in this chart are recommended guidelines and should be adjusted depending on your puppies individual needs. If your puppy appears overweight, you may need to feed slightly less than the guideline amount.
Similarly, if your puppy appears underweight, you may need to feed slightly more. Monitor your puppies bodyweight regularly and adjust the feeding amount as required.
Always ensure your dog has a plentiful supply of fresh water.
Store in a cool, dry place, away from direct sunlight.
This food is recommended for puppies until they are approximately 12 months old. At this age, your dog is fully developed and requires a balanced diet tailored towards adult dogs.
About Leader
Natural Dog Nutrition

The Leader range of food offers something for every dog. Each product is tailored according to a dog's size, age and individual needs. Using natural Irish ingredients, Leader feeds cater to dogs with sensitive tummies, those who need to watch their weight and those who need extra protein and omega 3 oils.
We understand that larger dogs need extra care for their joints, and smaller dogs need a kibble size they can manage easily. Whatever your dogs' needs are, you can find a Leader food that's just right as well as a healthy range of treats to supplement their delicious diet.
My puppy ate well but kibble a little on the big side for med breed , I did soak it to help night before
Small but tasty
Bought a 12kg bag for my 12mth collie after trying the large breed puppy food a friend was feeding her dog. Ordered for a medium breed as thought appropriate but was a little disappointed on how small the kibble was. Plus side my boy likes the food and it suits his stomach as other brands upset him. Price wise for the quality of kibble it's excellent value. Will be ordering again but probably go for large breed as my boy liked the larger kibble.
I think it is a good food and she enjoyed it , but unfortunately my puppy has some sensitivity to chicken becomes very itchy with smelly ears so can longer use.
This our first time trying leader puppy and medium breed food there doesn't seem to be any complaints from our 2 dogs their bowls are cleared in one go.
Great for sensitive tummies!
I have had a weeks-long struggle with my young collie puppy in trying to find a longterm dry food solution and thus far this kibble is suiting him very well. He is VERY sensitive and until now no kibble has suited his delicate digestion but Leader has provided the perfect product in a natural, limited ingredient diet that has a high quality composition without being too rich for protein sensitive dogs. I'm very happy with it!