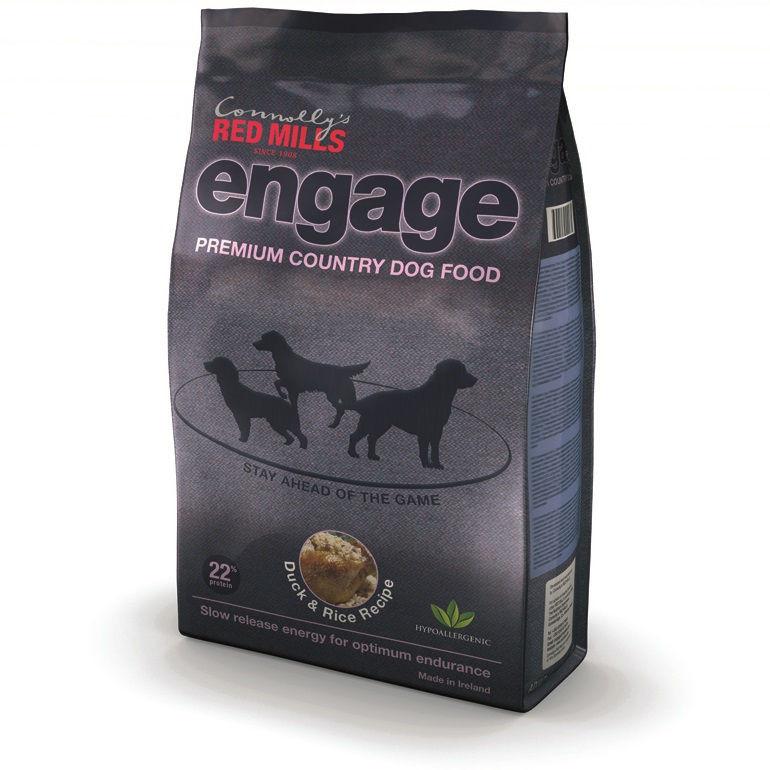 Engage Duck & Rice Dog Food
Red Mills Engage Duck & Rice recipe is formulated to give your dogs the very best food for sustained health and vitality.
The high quality recipe, with hypoallergenic characteristics, provides a highly digestible source of nutrition. The high rice inclusion level offers slow release energy to keep your dogs calm, yet alert, throughout the working day.
This fast recovery formula has additional glucosamine and chondroitin to aid joint care, and the high oil content can help keep coats strong, while providing sustained energy.
This blend features omega 3 oils for healthy skin and coat with hypoallergenic characteristics. With 26% meat content, it fuels your dog for an active day at your side hiking or playing. Glucosamine and chondroitin support their joints when they are on the go.
We use only the very best of natural ingredients throughout our Engage range. All of our ingredients are highly digestible for your dog.
The Engage range includes hypoallergenic foods. Rice has been included in diets, as it is well known to be gentle on digestion. Some issues with sensitivity can include stool problems, digestive upsets or skin irritations. We have formulated these diets to minimise the incidence of any such sensitivities.
Our diets include the correct balance of glucosamine and chondroitin to aid healthy joints in your dogs, reducing the occurrence of joint problems during strenuous work.
The Engage range has added vitamins and minerals, for optimum health and vitality. This ensures your dog gets all the necessary nutrients for their active lifestyle.
Our hypoallergenic diets use sunflower oil, which is a natural oil obtained from sunflower seeds. It is an excellent source of Omega 6 fatty acid. Linseed is also included as a source of Omega 3. These ingredients are very beneficial for coat and skin health.
The Engage range offers a variety of protein sources. They include duck, salmon, chicken and beef. Each protein source offers its own benefits, with duck, salmon and rice included to offer hypoallergenic diets for your dogs. Dogs in hard work need a good source of protein for effective recovery after work.
To maintain healthy digestion your dog needs fibre in their diet. The Engage range uses beet pulp and chicory as sources of fibre, ensuring optimum gut health.
Analysis
Composition
Rice, Dehydrated Duck Meat, Sunflower Oil, Dehulled Oats, Whole Linseed, Beet Pulp, Fishmeal, Chicken Gravy, Sodium Chloride, Calcium Carbonate, Mono-Dicalcium Phosphate, Yeast Extract, Chicory Extract, Chondroitin Sulphate, Glucosamine Hydrochloride.
Analytical Constituents
| | |
| --- | --- |
| Protein | 22.0% |
| Oil | 11.0% |
| Fibre | 2.0% |
| Ash | 7.5% |
Feeding Guide
| | | | | |
| --- | --- | --- | --- | --- |
| | Resting | Light Work | Rigorous Work | Sustained Work |
| 4 - 10kg | 100-170g | 110-190g | 125-225g | 150g-300g |
| 11 - 25kg | 170-345g | 190-400g | 225-440g | 300-600g |
| 25 - 32kg | 345-400g | 400-470g | 440-500g | 600-750g |
| 30kg+ | 90kg for every 10kg bodyweight | 110g for every 10kg bodyweight | 125g for every 10kg bodyweight | 175g for every 10kg bodyweight |
About Engage
Premium Country Dog Food
Hard-working dogs need a little more to fulfil their potential.
The Engage line provides extra protein for muscle strength, perfect for dogs who spend their days in the fields and need tailored nutrition to protect their joints and give them the endurance they need to do their jobs joyfully.
Engage will also give them a shiny coat and a wagging tail with a delicious taste and a high-quality recipe.
Happy Dog, Happy Owners!
He has eaten Engage since he was born and is 11 soon. Never a thought of changing anything apart from the flavour he has. You definitley get what you pay for and quality does cost a little more.
Dogs love it 😋
Dogs love the food & coats are looking really good. Great it's on automatic reorder. Thinking of putting my pup on it once I get her tummy sorted.
Excellent Hypoallergenic Dog Food
Have been feeding our huskies with Engage Duck & Rice for 10years and they still enjoy eating it. No digestive issues as hypoallergenic, highly recommended.
Engage Salmon
Great product dogs so enjoyed