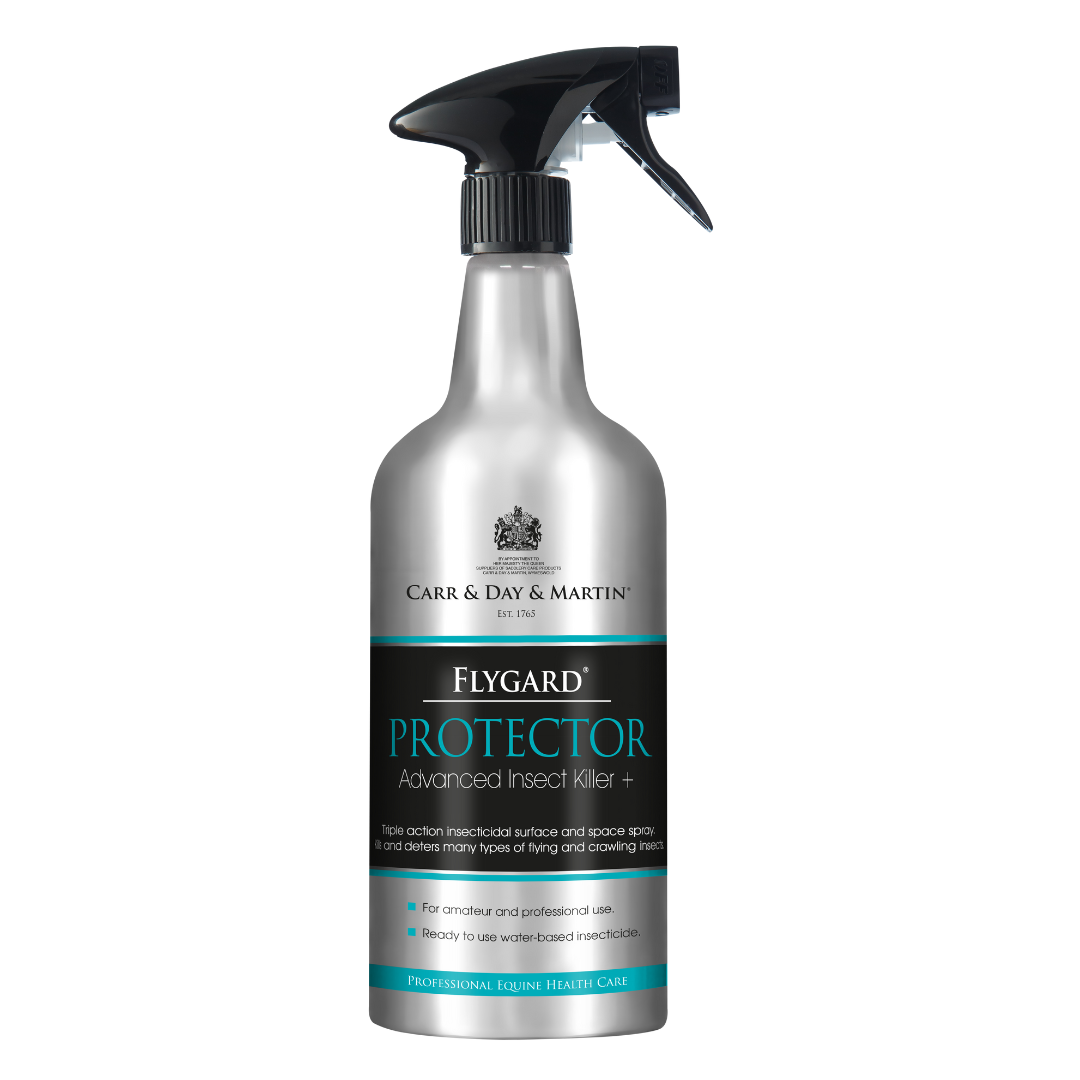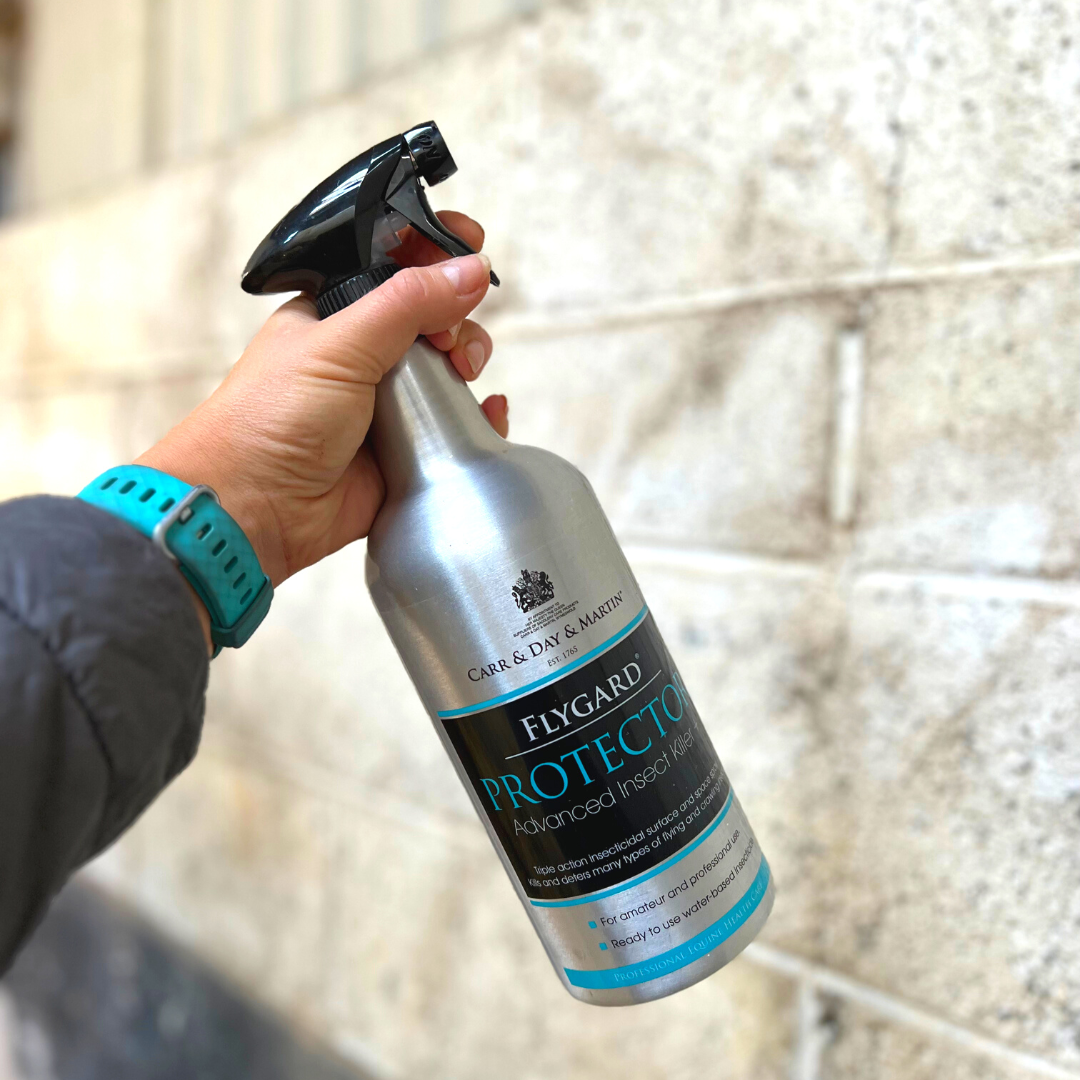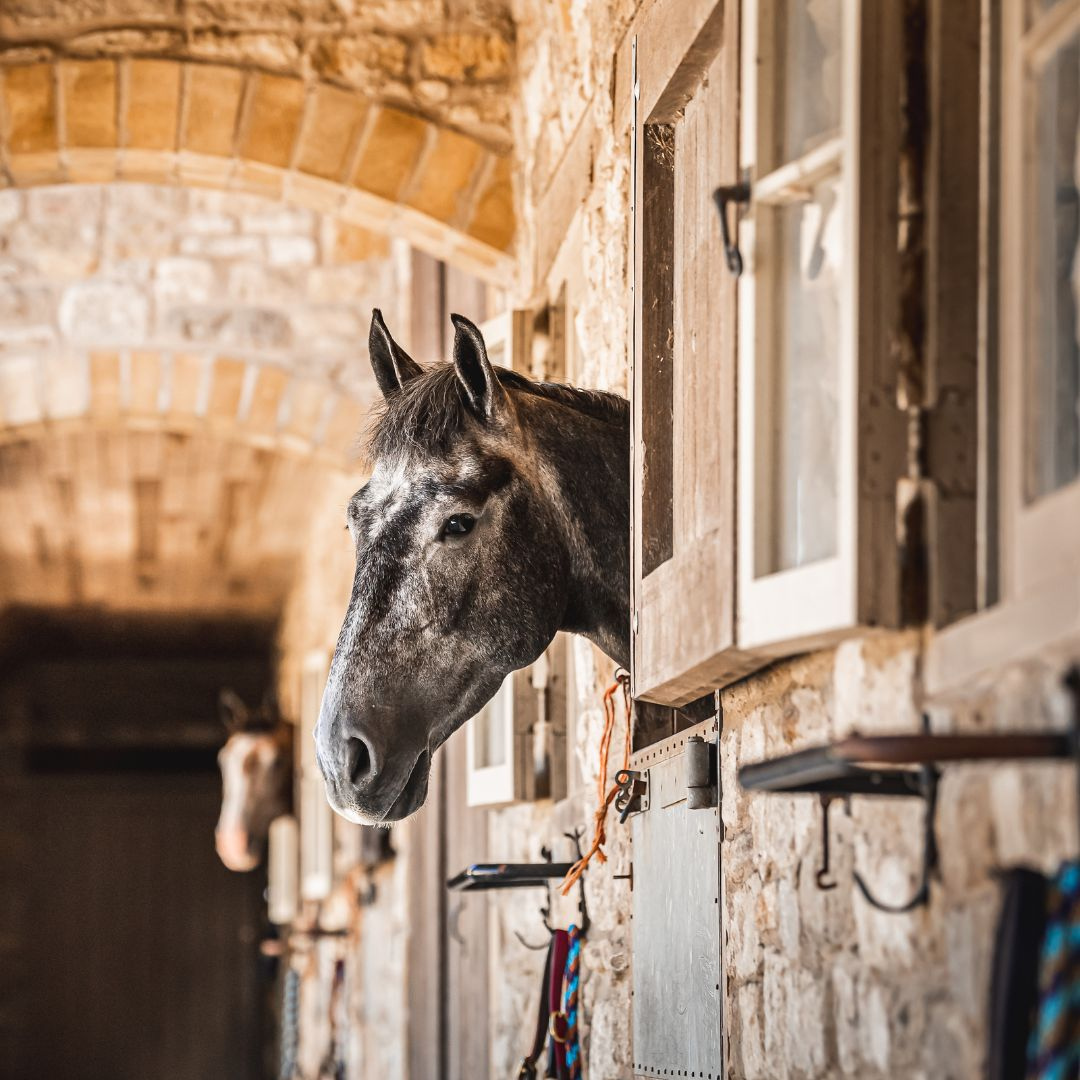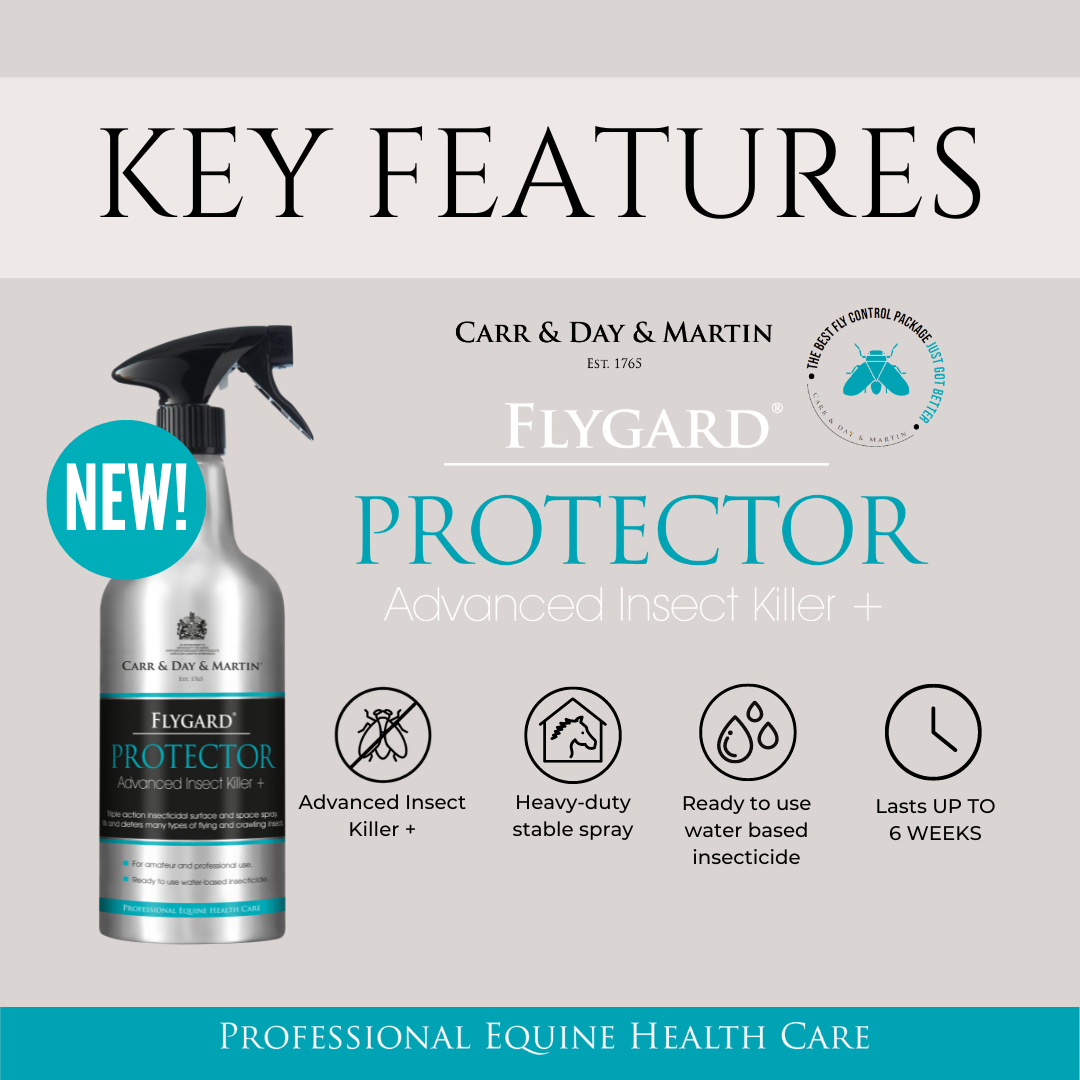 Carr & Day & Martin Flygard Protector Insect Repellent
Carr & Day & Martin Flygard Protector is an advanced insect killer with triple-action insecticidal surface and space spray.
NEW FLYGARD® Protector is a heavy-duty stable spray for protecting your horse's environment from irritating flying and biting insects. The water based insecticide formula containing Cypermethrin has a fast-acting 'knock-down' effect and provides weeks of protection.
Advanced Insect Killer+
Heavy-duty stable spray
Ready to use water based insecticide
Lasts up to 6 weeks
1 Litre
Not to be used on animal bedding, sleeping quarters, or where animals frequently lie.
*Use biocides safely. Always read the label and product information before use.
Application
Shake well before each use. Spray around your horses' environment & stable surface to prevent nuisance insects for weeks of protection.
One trigger spray is approximately to 1ml of product
Space treatment: Apply 1ml of product per M3, as a fine mist.
Surface spray: Apply 20ml of product per M2, slightly wetting the surfaces to be protected. Repeat treatment as and when required.
FAQ
Is FLYGARD Protector a repellent or Insecticide?
Flygard Protector is a heavy-duty stable insecticide spray
What is an insecticide?
An insecticide is a type of pesticide that is used to specifically target and kill insects.
What is the difference between fly protector and fly repellent sprays?
FLYGARD Protector is a stable spray that kills insects. A fly repellent deters and repels flies, so preventing them from landing on the horse's skin.
Can you use the spray in the stable with the horse in it?
Remove animals prior to treating the area with FLYGARD Protector and allow the surfaces to dry before allowing animals back into the treated area. Do not spray near water, feed, or bedding.
How often should you use the spray?
FLYGARD Protector has a long lasting knock down effect that will provide UP TO 6 WEEKS protection. However, the actual duration will depend on many factors such as the particular insect, weather, contact materials etc.
Can you spray near horse bedding?
No, it clearly states on the label and instructions, do not apply directly to animal bedding.
Is there a withdrawal period before competing?
No, the product is not being applied to the horse therefore not relevant to FEI / BHA rules and withdrawal times.
Good Practice would be to avoid spraying in the area where a post-race / competition doping sample could be taken, to reduce the risk of cross contamination of equipment / sample.
How do you store an insecticide?
As per the label. Store in a cool, dry area that is inaccessible to children and pets. Keep away from heat, sparks, or open flames. Store insecticides away from food, supplements, water, or other drinks – both for humans and any animals
How long before you have to reapply?
As and when reapplication is required. UP TO 6 WEEKS, in perfect conditions, although many factors can affect this.
About Carr & Day & Martin
Carr & Day & Martin - aka Carr Day Martin - is renowned for its Cornucrescine hoof ointment and line of horse healthcare, equine grooming and leather care products.
Carr & Day & Martin is the world's oldest company involved in the manufacture of horse care products. Founded in 1765 they have held a Royal Warrant since the reign of King George IV and still hold the Royal Warrant today for the supply of quality saddlery care products to Her Majesty Queen Elizabeth II.