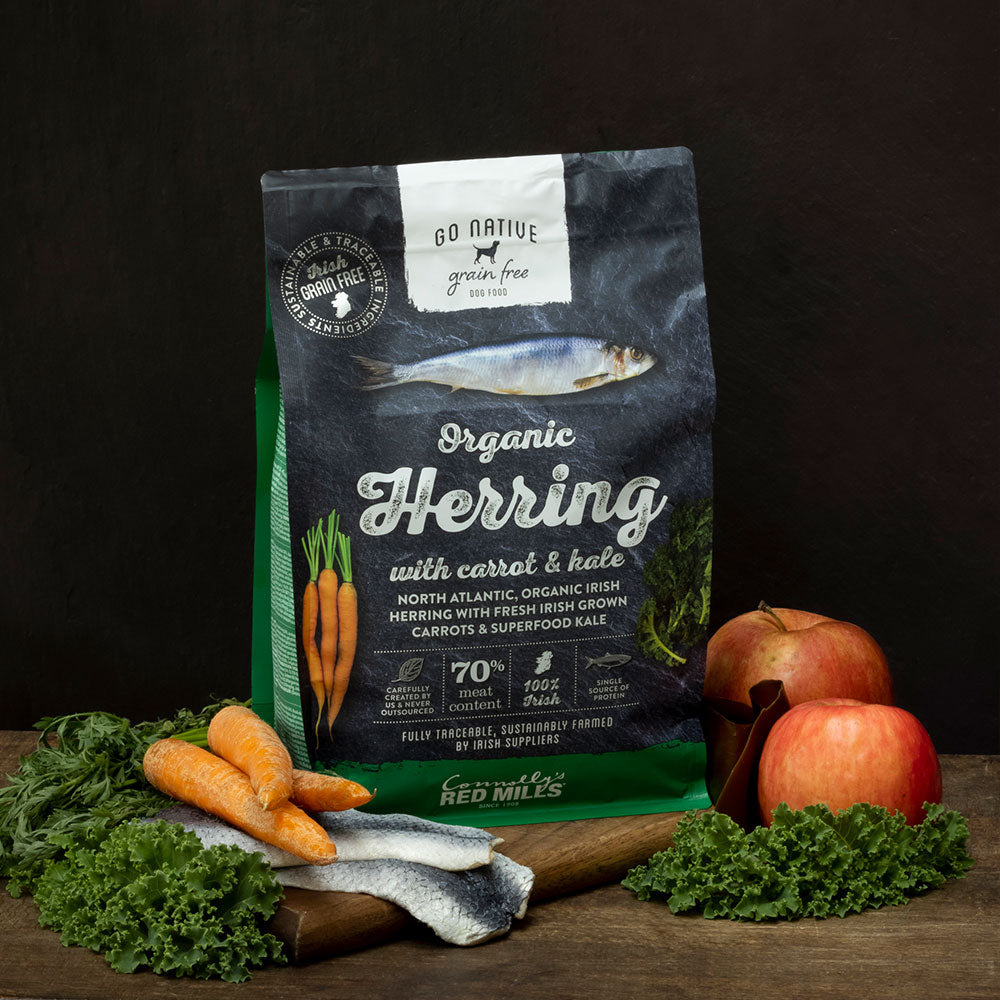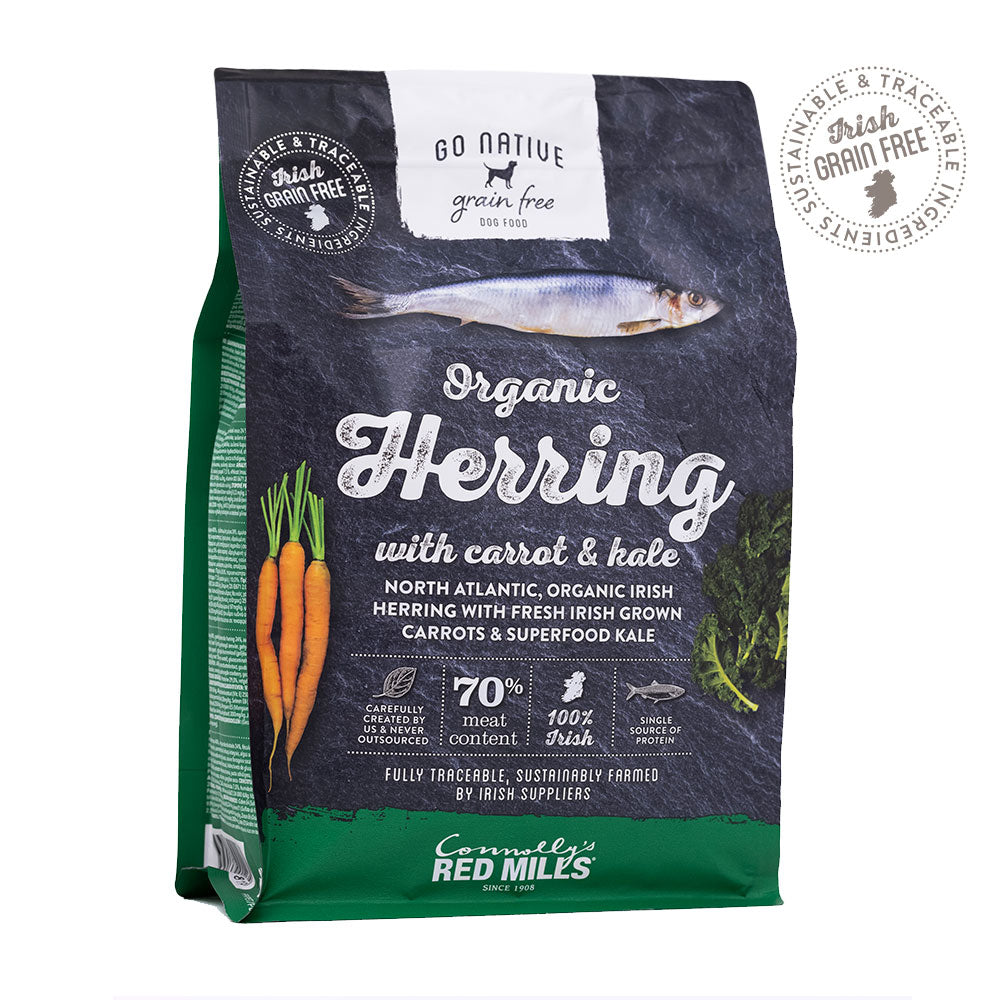 Go Native Organic Herring with Carrot & Kale Dog Food
Go Native Organic Herring with Carrot & Kale is made with 70% delicious Wild Atlantic herring, this grain-free, hypoallergenic recipe is blended with natural carrot & kale, and is bursting with antioxidants, all of which are designed to support your dog's immune system, while prebiotics from seaweed help promote a healthy tummy.
Herring is very high in Omega-3 fatty acids EPA and DHA, plus it's a great source of Vitamin D. This helps to aid the immune system and decreases inflammation!
Locally sourced fresh Irish herring with hand-picked Irish carrots & kale
70% meat content mono protein
Sustainably sourced, fully traceable, grain-free ingredients
100% Irish product
Ideal for Adult Dogs
Subscribe & Save: Choosing between 4kg or 12kg Pack you can save up to 15% by registering to our Subscribe & Save and never run out of dog food again!
Analysis
Composition
Fresh Herring 40%, Dehydrated Herring 24%, Potato Starch, Sweet Potato, Herring Oil 6.5%, Pea Starch, Whole Linseed, Dried Seaweed, Alfalfa, Hydrolysed Liver Protein 1%, Sodium Chloride, Yeast Extract, Dried Apple, Dried Kale (5% fresh Kale equivalent), Dried Carrot (5% fresh Carrot equivalent) Glucosamine Hydrochloride, Chondroitin Sulphate.
Botanicals
Alfalfa, Dried Broccoli, Dried Blueberry, Dried Carrot, Dried Cranberry, Dried Ginger, Dried Marigold, Oregano, Dried Rosehip, Dried Spinach, Turmeric, Yucca schidigera.
Analytical Constituents
| | |
| --- | --- |
| Protein | 29.0% |
| Fat Content | 21.0% |
| Crude Fibres | 2.0% |
| Ash | 7.5% |
| Moisture (max) | 10.0% |
Feeding Guide
You will typically feed less Go Native than other dog foods owing to its nutritionally dense content with 70% meat content.
We recommend you try to feed your dog at the same time each day.
While it's not always possible, it is best to feed your dog at the same time each day rather than just one, especially for large breeds. However, be vigilant with the amount of food you give them.
| | |
| --- | --- |
| Adult Weight (kg) | Daily Feeding Amount |
| 1 | 20g |
| 2 | 36g |
| 3 | 46g |
| 4 | 65g |
| 5 | 73g |
| 6 | 85g |
| 8 | 109g |
| 10 | 125g |
| 12 | 143g |
| 14 | 167g |
| 16 | 186g |
| 18 | 200g |
| 20 | 215g |
Feed Puppies from 6 weeks onwards, 3 times per day until the age of 6 months, then reduce to twice per day. Please check our Go Native Puppy with Organic Salmon, Spinach & Ginger.
Go Native products should be stored out of reach of children and in a cool dry place below 25ºC and out of direct sunlight.
About Go Native
Paleo-Based Grain-Free Dog Food
Go Native is a premium, grain-free pet food, which uses the highest quality, locally sourced Irish ingredients. It contains 70% single source protein and is the premiere choice for gourmet Irish pet food.
Go Native is made with a century of know-how, and is the tasty, wholesome, and vitamin-rich diet that your dogs will adore.
Go Native range consists of dog food, treats, and dental superfood sticks with the added benefit of using only fully traceable ingredients that have been completely sustainably farmed by our Irish suppliers. It offers your dog or cat premium paleo nutrition with no unnecessary fillers and no genetically modified ingredients.
Expert nutritionists and vets developed this line of food to give you the option of a paleo diet for your pet, created with high quality, single-source protein.
Go Native is free of wheat, maize, soy, and corn, ensuring a low allergy risk, and is ideal for dogs with sensitive stomachs.
Shipping to the UK only
Our gluten intolerant BT loves this
Quick delivery of order, our BT loves this flavour
Great dry dog food
My dog is allergic but this food turned out to be perfect for him. The high content of fish testifies to good quality. My dog eats this food with a lot of appetite and is looking forward to every meal.
Pleasantly surprised
Really impressed I've found I need to feed less compèred to the previous food I used and the dog loves it , it may seem expensive but it's worth it
Best dog food on the market
I tried another competing food but my dogs coat got dull and he was shedding more. Back on to Go Native and within a week his coat is shining and moulting significantly less. He also just seems happier, more satisfied between feeds. Will not be changing again. Would be great if you could bring out more flavours, maybe lamb or beef flavours?
Pic for attention, you can see the great condition of his coat!
Dog food
My dog loves GoNative dry food and I van see how it keeps him healthy.
It even helped to heal his allergy so I would like to recommend it to every dog owner.